The Heavy Lift Quadcopter (HLQ) is a gas-powered utility platform for numerous unmanned cargo applications in remote areas. Today's battery-powered UAVs and Radio Controlled aircraft that weigh less than 100 lbs. provide limited cargo capabilities and operating range. They typically offer little more than a tool for collecting imagery and surveillance.
In addition to imagery equipment, the HLQ can carry greater than 50 lbs. over several miles providing a durable cargo platform for numerous applications:
First aid delivery for resort areas and mountain trails
Cargo delivery to oil platforms
Scanning of cattle and crops
Monitor oil pipelines
Deliver spare parts to fishing vessels
The innovative design weighs less than 70 pounds and uses mainly commercial off-the-shelf components which reduce maintenance costs and downtime. The HLQ is GPS enabled, easy to fly, and can provide 200+ waypoints. Later this year, development will begin on more efficient versions of the HLQ that reduce weight and increase lift. In addition, bio-fuels will be evaluated to further reduce aircraft emissions.
Manuals, on-site training, maintenance support programs, and operational videos are also available. Please fill out our RFQ form detailing your requirements. An account manager will contact you to further discuss the HLQ within one business day.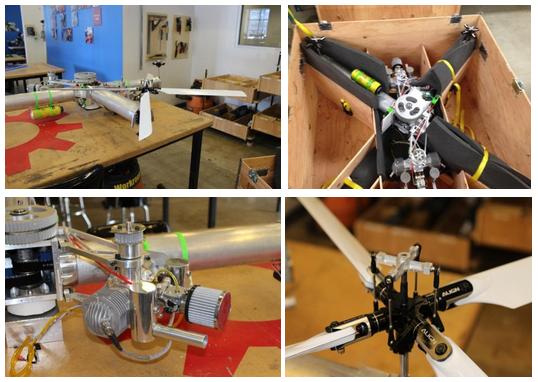 Please contact us if you are interested in learning more.